Hello! After a short delay, I am happy to announce the release of Marta 0.4.3.
New theme
The most noticeable thing is that Marta 0.4.3 comes with the new default theme called Kon. A single picture is worth a thousand words.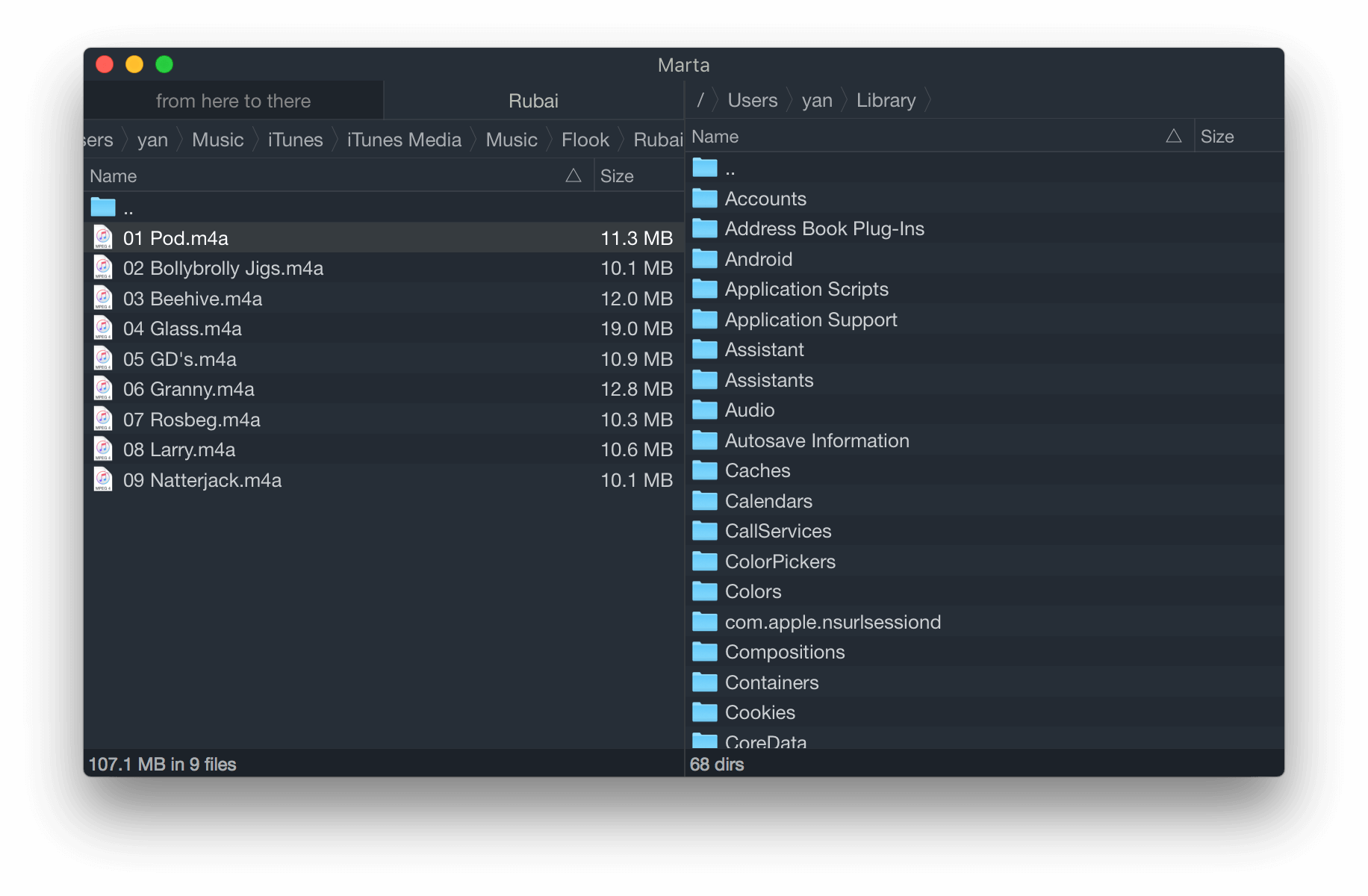 You may also notice that the main window now uses the unified title bar. Some users requested this feature, and Marta definitely looks better this way. Well, even if you don't think so, you can always switch to the old title bar in preferences 😉. And yes, the previous default theme, Dark, is still available.
Modifier support for Touch Bar
Touch Bar support was added in Marta 0.1.2, though the functionality was quite limited compared to the traditional function keys. For example, you can press not just F7, but also ⇧F7, ⌘⌥F7, and a dozen of other combinations so you can bind different actions for each of them.
With a Touch Bar, though, all you had was a static row of buttons; in other words, the number of actions you can bind was very limited. As a MacBook Pro 2016 user, I admit it was a serious shortcoming, and now the Touch Bar in Marta understands modifiers. The picture below is the default key layout, and the layout displaying if the "Shift" modifier key is pressed.

When you press Shift, the "New directory" button is replaced with the "New file". See the default configuration (Open default configuration action) to see how you can set the list of the required/forbidden modifiers for your Touch Bar buttons.
Other features
There are a number of other notable enhancements in Marta 0.4.3, including:
Smart menus with text filtering;
Dark window mode (in the Dark theme);
New "Hierarchy" action;
Fuzzy search and highlighting in the Actions panel;
Multiple fixes for the drag-drop functionality.
See the changelog for the full list of changes.
More amazing features are coming really soon.
Stay tuned and have a happy Marta! 🌻